This weekend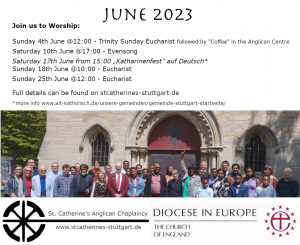 Saturday 17th June
Invitation from the Old Catholics to a Community festival auf Deutsch
15:00 – Eucharist
Followed by Kaffee und Kuchen, fellowship, and food. All are welcome.
Sunday 18th June @10:00
Eucharist with Tweens provision
The Council will be meeting after the service so there is no coffee in the Anglican Centre.
---
Kleiderkammer
Clothes donations needed – children and adult.


Prayers
we pray for our Chaplain-designate and those who will see us through the interregnum.
we pray for our Church Wardens and Council as they meet this Sunday
we pray for those who campaign for justice in the world and speak out on behalf of the oppressed.
---
Interregnum
During the interregnum/vacancy your first point of contact for all questions relating to
St. Catherine's are the Church Wardens
contact@stcatherines-stuttgart.de – WhatsApp – 0163 222 8997
(messages will be read on a once a day basis)