InChurch – Sunday 8th May – 12:00 – Eucharist – Vocation Sunday
AtHome – anytime Online
There are other liturgies to choose from and our choir archive to dip into here.
Bible Readings for Sunday: Genesis 7.1-5, 11-18 Psalm 23 Acts 9.36-43 John 10.22-30
OnZoom – Wednesdays@18:00 – Diocesan Lenten Vigils with Prayers for Peace in Ukraine. Vigil with Prayers information
OnZoom – Bible Study Group – Wednesdays@19:30 – with Revd_Solomon_Benjamin (code from biblestudy@stcatherines-stuttgart.de)
OnZoom – Sundays@21:00 – Compline lasting around 20 minutes
(code from communications@stcatherines-stuttgart.de)
---
Our first OutdoorChurch for 2022 will be on Sunday 22nd May – @ Rosenstein Park for Rogation Sunday. Sign up via the link above. Come for the service and stay on to picnic if you can.
---
Thank you to all those who supported our Jubilee Open Church last Saturday – photos are now on the website
---

---
Request for help
Nachhilfe –
for Shehnaz Mousa – our Refugee project Team Leader (minijob)
offers of help initially to chaplain@stcatherines-stuttgart.de
Prayer Post

We pray:
with faith for the sick and the recovering and for those waiting – and all who care for them
with longing for a peace in all areas of conflict in our world
with gratitude for our 4 key volunteers working on the Refugee Project as this project continues to develop
with joy for our (currently 8) Confirmation candidates: Anthoinette Brian Christopher Jordan Laurine Philippa Ruby Tracey and also Phil and Katja  joining us from Heidelberg as well as Davy (07.05.) and Eliott (11.06.) awaiting their baptism
with faith – which part of the world will you pray for this week ?
---
Virtual Collection Plate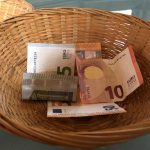 St. Catherine's is a self-supporting church. If you are new to St. Catherine's or have not yet set up a regular bank transfer, please give what you can online via our virtual collection plate
We have resumed haveing a Retiring Collection at services for any visitors and for those who prefer to 'give' in cash

If you would like to support the Diocesan Lent&Easter Appeal for Ukraine more information can be found here please give directly.