inChurch – Saturday 23rd April – 17:00 – Evensong

AtHome – anytime Online
There are other liturgies to choose from and our choir archive to dip into here.
Bible Readings for Sunday: Exodus 14.10-21 Acts 5.27-32 Revelation 1.4-8 John 20.19-31
OnZoom – Wednesdays@18:00 – Diocesan Lenten Vigils with Prayers for Peace in Ukraine. Vigil with Prayers information
OnZoom – Bible Study Group – Wednesdays@19:30 – with Revd_Solomon_Benjamin (code from biblestudy@stcatherines-stuttgart.de)
---
Next Weekend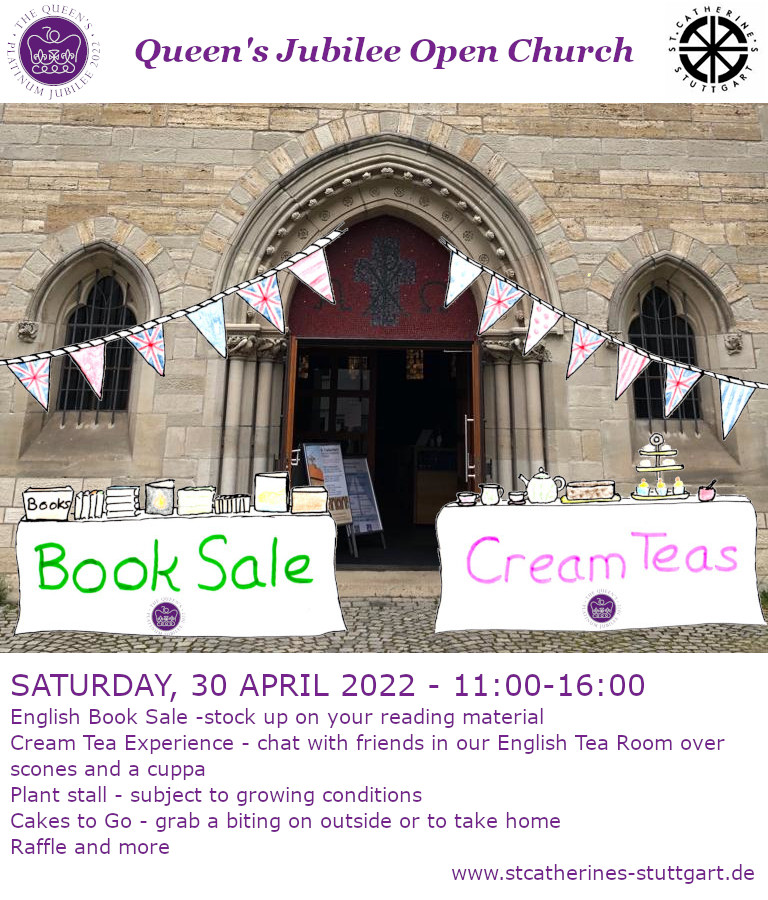 How you can help…
Please share the attached electronic flier with friends or if you use FB share our FB event
Sign up to cover a shift at our Open Church Event : Book Seller / Tea Room / Plant / Cake Sellers or to help set up / clear away- jubilee@stcatherines-stuttgart.de
Bakers needed – scones, traditional English cakes for the tea room. Packaged cakes to go, jams and preserves, cookies… offer to jubilee@stcatherines-stuttgart.de
Book donations needed – Fiction – Adult or children's – suitable for reading on the bus🚌 / on the beach 🏖 / in bed 🛏. Contact restock@stcatherines-stuttgart.de
and a new venture: donate your spare seedlings to our plant sale
There will be the usual books and more for sale in church, the Anglican Centre will be transformed into a tea room, bake sale for passers by outside in front of church ….
---
Prayer Post

We pray:
with faith for the sick and the recovering and for those waiting – and all who care for them
with confidence for all who will be travelling in these coming weeks
with longing for a peace in all areas of conflict in our world
with gratitude for our 4 key volunteers working on the Refugee Project as this project continues to develop
with joy for our (currently 8) Confirmation candidates: Anthoinette Brian Christopher Jordan Laurine Philippa Ruby Tracey and the two joining us from Heidelberg as well as Davy and Eliott awaiting their baptism
with faith – which part of the world will you pray for this week ?
---
Confirmation
We have a new date for Bishop David travelling to Stuttgart for our Confirmation service – Sunday 19th June – all being well !
Do pray for our candidates and their families. There is still time for any others to join this group (this offer closes on 30. April)  – https://stcatherines-stuttgart.de/thinking-about-confirmation/
---
Virtual Collection Plate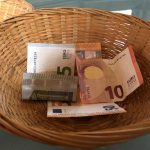 St. Catherine's is a self-supporting church. If you are new to St. Catherine's or have not yet set up a regular bank transfer, please give what you can online via our virtual collection plate

If you would like to support the Diocesan Lent&Easter Appeal for Ukraine more information can be found here please give directly.