SIGN UP for Traditional Lessons & Carols closes Friday 23:00
Register online here – you will receive an e-mail with details of the service.
PLEASE DO NOT JUST TURN UP.
InChurch – Sunday@17:00 – Traditional Lessons&Carols at the Leonhardskirche
Advanced registration required see above.
AtHome – from Sunday anytime Online –
St. Catherine's Pick and Mix Lessons & Carols
There are other liturgies to choose from and our choir archive to dip into here.

OnZoom – 17th-23rd December @21:00 Compline with Advent Antiphons – code from chaplain@stcatherines-stuttgart.de
OnZoom – Sundays @21.00 – 21.30 Compline – code from chaplain@stcatherines-stuttgart.de
OnZoom – Wednesdays @19.30-2015 Bible Study Group – code from biblestudy@stcatherines-stuttgart.de
NOTE: Wed 15.12. is the last one this year next – restarting on Wed 19.01.22 – new members always welcome !
OnZoom – Wednesday 15th December @18:30 – Hope for All Time – a Diocesan Advent Service
AdventActions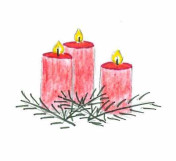 – Prayer Chain – There continue to be strips of paper available at the back of church to write the names of anyone you might like to remember or whom you might like to pray for – the chaplain will form these into a prayer chain for the Anglican Centre (requests can also be sent to chaplain@stcatherines-stuttgart.de)
– Our Advent Calendar is posting daily on the website from the 1st December. If you would like a notification each day in your inbox please e-mail advent@stcatherines-stuttgart.de
– Bishop's Advent Appeal
---
Winter Restock…
We are grateful to all those who contributed in the summer – thank you. The needs in winter are different – sleeping bags, coats, shoes etc. please contact restock@stcatherines-stuttgart.de to arrange drop off of donations in the coming weeks.
---
Confirmation
We are hoping to hold our long postponed Confirmation service in early January 2022 and are pleased Bishop David will be joining us for this.
Please pray for those from the Stuttgart and Heidelberg Chaplaincies who will be confirmed.
---
Prayer Post

We pray for:
December baptism anniversaries and birthdays (there are lots)
for all who struggle this time of year
for Tim and Sarah as they resettle back home with gratitude for what they offered in their time among us
for others of our church family who are travelling 'home' to be with family at challenging times
for our Bishops and Archdeacons with gratitude for all they give often at huge personal sacrifice