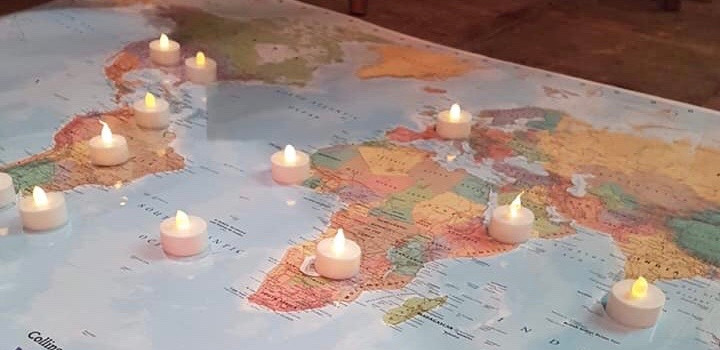 According to our website – The Christian Calendar takes us annually on two Epic Journeys …  Certainly in the northern hemisphere these journeys accompany the seasons of nature from winter into spring and from spring into summer, with similar themes of darkness and light, growth and new life.
We have just completed the first of these Epic Journeys and begin today a very quick turn around (Ordinary Time) before our next Epic Journey begins: Lent – Easter – Pentecost
Ash Wednesday is here the opening bracket that sets the tone and the agenda and Pentecost is the climax as well as the closing bracket as it marks and celebrates the birth of the world-wide church. 
I would like here simply to set out a map for the first 'leg' of that journey.
At St Catherine's Lent actually begins on the Sunday before Ash Wednesday – called in our local context 'the Pancake Sunday Liturgy' with the story of the Transfiguration to encourage us on our way as well as friendship as we share the making of and enjoy eating pancakes. This year – you will have to make your own pancakes and perhaps send in some photos to go in our Covid-19 photo gallery. (send to webmaster@stcatherines-stuttgart.de)
Ash Wednesday falls this year on 17th February. Ordinarily we would join the Old Catholics for a joint bilingual service in church with Ashing included. For the last two years this has been followed by a joint 'fish supper'. Neither the joint service nor the shared supper are possible this year. But…
an Online reflective service will go on the website from the morning of Ash Wednesday.
also there is chance to pop into Open Church for a simple liturgy to reflect on by yourself, though the chaplain will be present to 'ash' anyone who would like that.
the Old Catholics would love you to join in their service but booking in is required (via chaplain) and spaces are limited (that service in German of course).
our own weekly Bible Study Group which always meets on Wednesday evenings (zoom) will together go through the Online liturgy, so please request the code if you would like to join in with that.
Plenty of options – join in with whatever fits !
Lent on Sundays. The changes in our church services during Lent have previously been the inclusion of a summary of the ten commandments, the colour purple, intercessions have been in stillness with an invitation to use our world map to pray for different parts of the world, and there is a lot more kneeling ! Most of these features will find their way into our Online service provision and some will find themselves into our Return2Church services on Saturday evenings. which will still need signing up for. The Young People will also get their own weekly mail through the Sunday School Programme.
Lent midweek. For the past two years the Chaplain's Musings article has been replaced during Lent with an image for our own reflections and that will be the case this Lent also. The image will arrive in your Inbox with the Notices ahead of the weekend.
Wednesday afternoon Open Church will continue through Lent and some reflections material will be made available. The chaplain is always present. The church is also open on Saturdays ahead of the service so a drop-in for private prayer from around 15.45 is possible throughout Lent.
Palm Sunday. Usually the children have been in church for this, we have together processed around the church – some singing 'Ride on ride on in majesty', others praying for our church while walking round it. Last year during Lockdown1 I did that whole thing myself alone – twice! First time round singing and second time round praying for both the church families – the Anglicans and the Old Catholics. It was a very moving experience. The rest of you gathered Online. Ordinarily we would as a congregation, from the pews, read one of the Passion Liturgies. This year I hope to gather as many of us as possible (even those on other continents, if the time zones work) on zoom to sing a couple of hymns together and indeed to read the Gospel of Mark Passion. For that I will need lots of readers (the rest will be in crowd and group parts). Please let the chaplain know if you would like a reading part. Timings – I am thinking @16:00 CET so you can invite friends and family from elsewhere on the globe….. 'How to make your own Palm Cross' instructions will follow. 
Holy Week. Both Thursday and Friday of Holy Week have held drop-in type events in the past and that will be on offer again this year at the Anglican Centre. The same simple liturgies will go Online for those who want to stay safe at home, or who have less time. Similar to Ash Wed there might be a zoom option to join with others to go through a short and simple liturgy on both Thursday and Friday.  For 'time-slots' at the Anglican Centre – see Notices nearer the time.
Easter Weekend. In past years the Saturday has been one of our ecumenical high points of the year as all three local churches Old Catholics and Anglicans and Leonhardskirche all met from 21:00 on the Saturday and kept going well into the small hours. With music and liturgy and procession and firebowl and candles and darkness and prayers and finally food. And on Easter morning we met for our Easter Eucharist. This year the Old Catholics and Leonhardskirche will meet on Saturday evening which allows us the use of the church on Easter morning – we will celebrate a Eucharist (the usual story of sign up sheets… starts here!!)
Families – please arrange for Easter egg hunt type stuff at home this year, and refreshments following services are still not allowed.
Like we did at Christmas – if sign up numbers are high we will repeat the service the following morning (please bear this in mind). And like we did at Christmas – an Easter liturgy will go Online, as will the Exultet, for those who need to stay home or who want to share worship with family in other parts of the world.