This Week
Saturday – we are back once again in Return2Church services at the usual time of 17.00. We use a small variety of evening liturgies in a small and safe and friendly environment. This weekend an informal liturgy which allows us flexibility in case we are permitted to sing into our masks. Please let Chaplain know you're coming so seating with distancing can be arranged.
Sunday –  normal Online service follow the link above
---
This week as every week…
Bible Study (Wed 19:30) and Compline (Sun 21:00) – Codes from the Chaplain as usual and new folk always welcome either as a one off visit or on a regular basis
Our next ZoomCoffee will be on Sunday 20. June
---
In Memorandum
Many of you will have received the sad news that Jutta Ross died in April. The funeral is to be held in June. Kara asks: could anyone who would like to and knew Jutta,  please write a sentence about their friendship with Jutta and send them to me using the warden's address wardens21@stcatherines-stuttgart.de and she will include them in the eulogy at the funeral.
Thank you.
Alison Seyerle, Warden
---

Our first Outdoor Church service is scheduled for Sunday 27th June – more details and a sign up form can be found here
---
Prayer Post
for baptism anniversaries and for birthdays in June
for peaceful resolving of conflicts around leadership in several parts of the world
for those anxious or fearful of the pandemic as well as the vaccines
---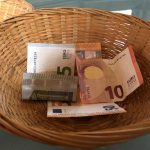 If you have the means to do so, please give what you would have put in the weekly collection plate via bank transfer.
Kontoinhaber : Friends of the English Church e.V.
IBAN: DE39 6009 0100 0587 2530 02
Bank: Volksbank Stuttgart
For regular giving to St. Catherine's setting up a "Dauerauftrag", if you can, means you don't have to remember to do this at the end of every service and helps support the on-going fixed costs of St. Catherine's.
Thank you supporting our church.
Yours Lord is the greatness, the splendour and the majesty.
Everything we have comes from you and of your own do we give you.