InChurch – Sunday 19th June – 10:00 – Confirmation Service
we welcome … our own candidates: Anthoinette Brian Christopher Jordan Laurine Philippa Ruby Tracey and the candidates from Heidelberg: Katja and Phil and we welcome of course Bishop David
AtHome – anytime Online
There are other liturgies to choose from and our choir archive to dip into here.
Bible Readings for Sunday: Isaiah 65.1-9 and Galatians 3.23-29 and Luke 8.26-39
Collect for Sunday: God of truth, help us to keep your law of love and to walk in ways of wisdom, that we may find true life in Jesus Christ your Son.
OnZoom – Bible Study Group – Wednesdays@19:30 – with Revd_Solomon_Benjamin (code from biblestudy@stcatherines-stuttgart.de)
OnZoom – Sundays@21:00 – Compline lasting around 20 minutes
(code from communications@stcatherines-stuttgart.de)
---
Sunday 31st July 2022 – 11:00 @ Solitude


---
---
Prayer Post

We pray:
for our Confirmation Candidates as they spend the day together on Saturday and are confirmed on Sunday – Anthoinette Brian Christopher Jordan Laurine Philippa Ruby Tracy
for safe travels for Bishop David and those returning from school holidays
for birthdays and baptism anniversaries
for all who are hurting in our world – who will you pray for ?
---
Collection Plates: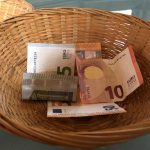 St. Catherine's is a self-supporting church. If you are new to St. Catherine's or have not yet set up a regular bank transfer, please give what you can online via our virtual collection plate.
We have resumed having a Retiring Collection at services for any visitors and for those who prefer to 'give' in cash.

If you would like to support the Diocesan Appeal for Ukraine more information can be found here please give directly.