InChurch – Sunday 15th May – 12:00 – Eucharist 
AtHome – anytime Online
There are other liturgies to choose from and our choir archive to dip into here.
Bible Readings for Sunday: Acts 11.1-18 and John 13.31-35 Psalm 148
OnZoom – Wednesdays@18:00 – Diocesan Lenten Vigils with Prayers for Peace in Ukraine. Vigil with Prayers information
OnZoom – Bible Study Group – Wednesdays@19:30 – with Revd_Solomon_Benjamin (code from biblestudy@stcatherines-stuttgart.de)
OnZoom – Sundays@21:00 – Compline lasting around 20 minutes
(code from communications@stcatherines-stuttgart.de)
---
Our first OutdoorChurch for 2022 will be on Sunday 22nd May – @ Rosenstein Park for Rogation Sunday. Sign up via the link above. Come for the service and stay on to picnic if you can.
---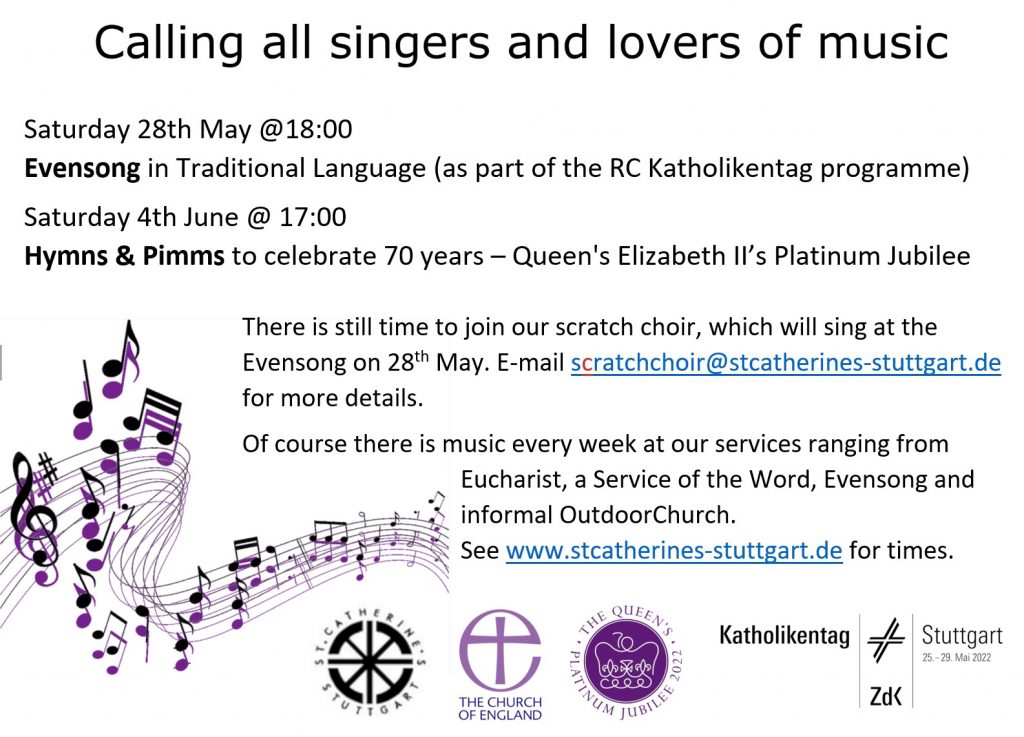 ---
For more details of the Hymns & Pimms event see this week's Musings
---
---
Request for help
Nachhilfe –
for Shehnaz Mousa – our Refugee project Team Leader (minijob)
offers of help initially to chaplain@stcatherines-stuttgart.de
---
Prayer Post

We pray:
with faith for the sick and the recovering and for those waiting – and all who care for them
with longing for a peace in all areas of conflict in our world
with gratitude for our 4 key volunteers working on the Refugee Project as this project continues to develop and new volunteers joining in
with joy for our (currently 8) Confirmation candidates: Anthoinette Brian Christopher Jordan Laurine Philippa Ruby Tracey and also Phil and Katja  joining us from Heidelberg as well as  Eliott (11.06.) awaiting his baptism
with faith – which part of the world will you pray for this week ?
---
Virtual Collection Plate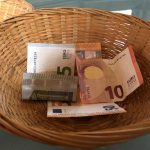 St. Catherine's is a self-supporting church. If you are new to St. Catherine's or have not yet set up a regular bank transfer, please give what you can online via our virtual collection plate.
We have resumed having a Retiring Collection at services for any visitors and for those who prefer to 'give' in cash.

If you would like to support the Diocesan Appeal for Ukraine more information can be found here please give directly.