InChurch – Sunday @12.00 – 13.00 'Gathering4Worship' – a Short Eucharist  (optional are refreshments outside our Anglican Centre from 11.30 – please bring your own) – Registration required – Sign up here
AtHome – Sunday anytime Online –
Bible Readings this weekend BibleSunday:
Isaiah 55.1-11 Psalm 34.1-8 2 Timothy3.14-4.5 John 5.36-47
There are liturgies to choose from and our choir archive to dip into here.
Do you like bread? Do you like baking? After listening to the sermon on Sunday why not try some of the follow up activities. There is also a tie in hymn Bread for the World
https://www.youtube.com/watch?v=fzDMkZwcPEg
If you can't make it to church please ask the chaplain for a copy of the sermon text.
OnZoom – Sunday @21.00 – 21.30 'Compline' code from chaplain@stcatherines-stuttgart.de
OnZoom – Wednesday @19.30-2015  Bible Study Group – code from biblestudy@stcatherines-stuttgart.de
---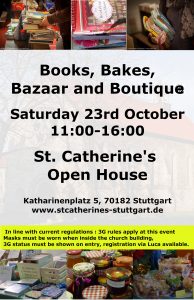 Are you prepared for our
St. Catherine's Open House
this Saturday 23rd October – 11:00-16:00?
Share the flier below to encourage friends and acquaintances to come along to shop and catch up
Sign up to donate items or help on a stall (see requests in previous mailings for baked goods, chutneys, books, bazaar & craft items, ladies' clothes and accessories – https://stcatherines-stuttgart.de/notices-for-17th-october-trinity-20/
Come along and support our first in-person social/fundraising event since 2019!
In line with current regulations : 3G rules apply at this event
Masks must be worn when inside the church building, 3G status must be shown on entry, registration via Luca available.
---
Prayer Post

We also pray for:
those anxious or fearful of the pandemic as well as the vaccines and variants
for those travelling for work or leisure
for October baptism anniversaries and birthdays
those recently bereaved or marking a bereavement anniversary
---
Looking ahead
Confirmation
We are hoping to hold our long postponed Confirmation service in early January 2022.
If you are interested in being confirmed (or have a young person in your household 14+ who might be ready for this step) please speak to the Chaplain. We are being joined by two adult candidates from the Heidelberg Chaplaincy.
Gathering4Worship – Sign up for Sundays in October
23rd October – St. Catherine's Open House Fundraising Event – fliers will be available in church on Sunday, please share the image from the website and the post on the St. Catherine's FaceBook account.
Return2Church next on Saturday 30.10. @17.00
ZoomCoffee next on Sunday 31.10. @10.30
---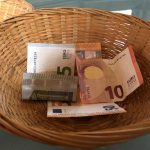 Virtual Collection: If you have the means to do so, please give what you would have put in the weekly collection plate via bank transfer or paypal.
Yours Lord is the greatness, the splendour and the majesty.
Everything we have comes from you and of your own do we give you.